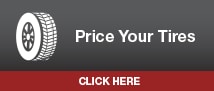 The right tires can impact the safety and performance of your vehicle.  At Northcutt Toyota, we have a large selection of competitively priced tires designed to deliver the best driving experience.  Trust our certified Toyota technicians to properly mount, balance and inflate your tires to match your vehicle's specifications.

Click on the "Price Your Tires" button to the right, provide your vehicle information and we will contact you with a price quote on our Toyota-recommended tires.

Keep your Toyota a Toyota by visiting our tire experts at Northcutt Toyota's Service Center today!  Contact us (580) 234 - 5171.